Scaffolding Solutions and Asbestos Management for Social Housing
Every year, Alltask provides scaffolding, insulation, environmental and asbestos services for over 4,000 homes in the social housing sector across London & the Home Counties for London Boroughs, Councils, Housing Associations, Main Contractors and Specialist Subcontractors.
Numerous subcontractors have benefited from our scaffolding solutions, including external decorations, temporary roof scaffolding and gutter leaks, chimney scaffolding and exterior wall insulation (EWI). All temporary works, scaffolding design, shrink-wrap water-proofing and satellite relocation and tuning services are undertaken in-house by our directly employed, trained, and accredited scaffolding contractor workforce.
The Alltask workforce has experience of working with Resident Liaison Officers (RLO) and we understand and acknowledge the intricacies of working around the social housing tenants' requirements, whether using Standard Operating Rates (SOR) or fixed price lump sum for Section 20 tenant compliance.
We are also unique in having an in-house, fully HSE licensed asbestos removal service.
Providing a multi-service solution of scaffolding and asbestos removal means that our clients benefit from a scaffolding design which incorporates all the quirks that an asbestos enclosure requires.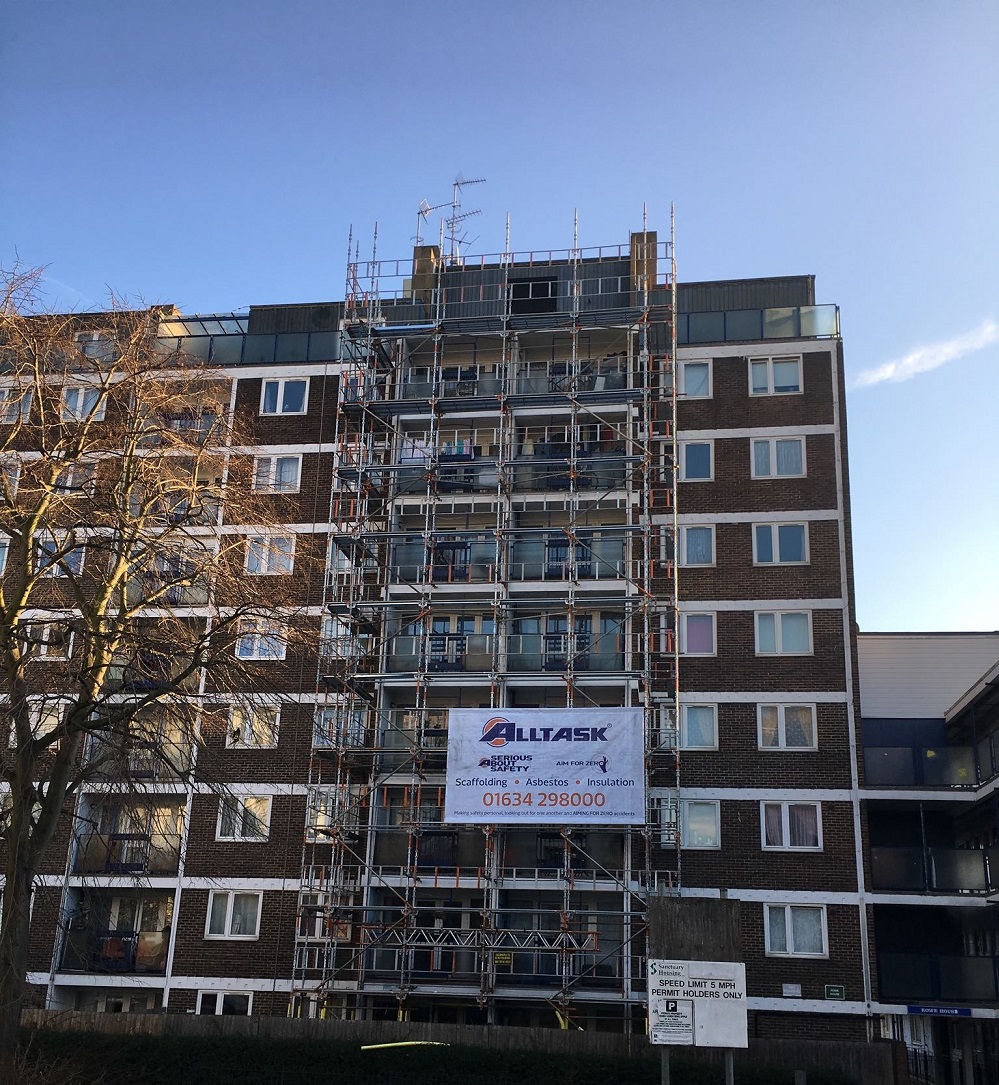 Scaffolding Solutions for the Social Housing Sector
Alltask employs and trains its workforce specifically for the social housing sector. All staff are trained to manage tenant expectations. They use soft skills and understand that working at tenants' homes requires additional skills that a traditional scaffolding, asbestos or construction project doesn't necessarily need. They're polite, courteous and trained to pass issues upstream for a remedy to maintain their relationship with the social housing tenant.
We notify tenants of proposed works and dates, surveying every job individually before carrying out any work. We cover the cost of any genuine damages, thus negating the need to cover up accidents that can occur from time to time and we dismantle used scaffolding promptly, which is a real bugbear in the social housing sector, accounting for a high proportion of tenant complaints.
Talk to us
Get in touch today to find out more about the scaffolding solutions and scaffolding design services that we provide for the social housing sector and understand more about how we can help you.