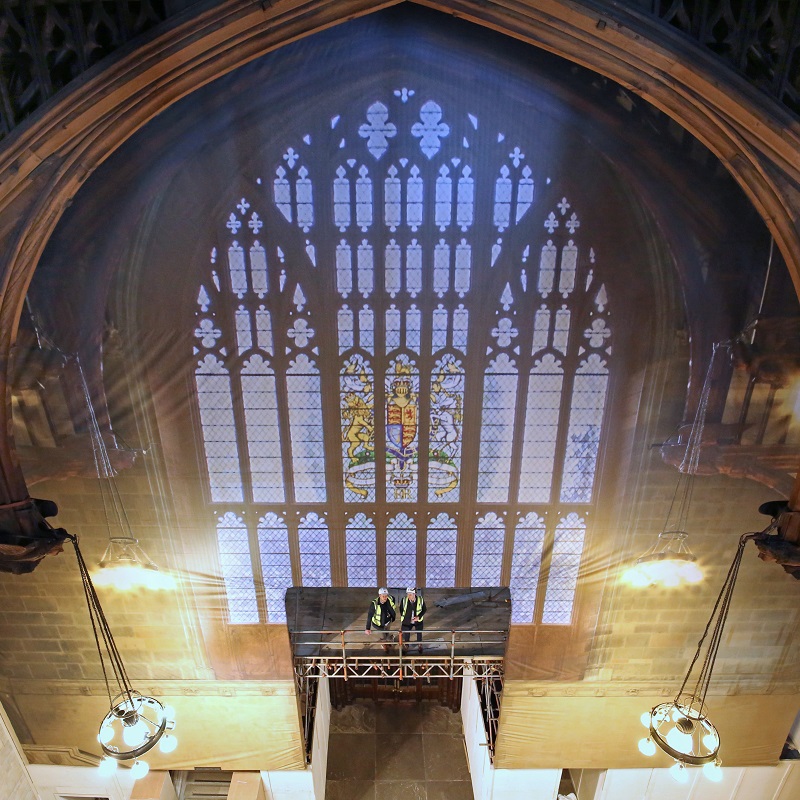 Maintaining a Historic Past
As part of the Houses of Parliament ongoing restoration works, we were contracted to carry out an extensive scaffold access package to the inside of Westminster Hall, incorporating the external roof lantern.
Westminster Hall is the oldest building on the parliamentary estate carrying more than 900 years of fascinating history. Set to play a prominent part in future events, Westminster Hall has been transformed to befit its 21st century standing in the world.
As part of the Palace of Westminster situated on the north bank of the River Thames in the City of Westminster, this special place has been the site of crucial episodes in the UK's history, such as the trial of Charles I, coronation banquets, the lying-in-state of monarchs and prime ministers and addresses by world leaders. The oak hammer-beam roof in Westminster Hall, commissioned by Richard II in 1393, is the largest in Northern Europe, spanning more than 20 metres. A steel frame structure, installed by Sir Frank Baines between 1913 and 1922 to reinforce the roof, made the access system to undertake the project works possible.
The main works in Westminster Hall comprised two parts. The first element involved the meticulous conservation of the internal roof trusses sited 28m above ground level. The second involved the deconstruction and restoration of the external roof lantern.
From the outset, we were under no illusions about the significance and historical importance of this project. Westminster Hall's interior is steeped in history, and just about everything contained within it is irreplaceable. During the planning stage, no stone was left unturned to the extent that we created a full-scale, proof of concept mock-up at our head office.  This fully functioning scaffolding structure for one of the Westminster Hall roof space's internal bays was lifted and lowered with the client and relevant stakeholders in attendance.
Once appointed, we immediately consulted with our system scaffold partners, HAKI UK, and co-developed a lightweight access solution built at ground level and lifted into position via purpose-built hoists made in Germany specifically for the contract.
Unbelievably, we managed to get this process down to a fine art by constructing and installing a single roof truss bay in one weekend. Once lifted, the scaffolding rig remained suspended on the hoists but as a secondary precautionary measure, was also held in position by a series of purpose-made chains connected to a series of node points within the roof structure itself.
Hanging a scaffold by hoists and chains 28m in the air turned into a real labour of love for us /our team, and we rose to the challenge given what in real terms was such a complicated design brief. Liam Duffy, our Contracts Director explained, "The scaffolding was in preparation for large-scale conservation and refurbishment work and quite rightly, great care had to be taken given the historical importance of such an iconic building  Being involved in this project has been a privilege from start to finish for the entire team.
The roof structure within Westminster Hall is comprised of 14 individual bays, 12 of these bays were suspended via purpose-built HAKI access rigs. However, the smaller bays at either end of the Hall had to be constructed from ground level, which presented another challenge as one of the criteria was to ensure that the scaffolds were as 'invisible' as possible.  Achieving this with the suspended rigs wasn't such a challenge, as when lifted into their highest position were barely visible from the hall floor. But, how do you hide a scaffold at ground level?  We created a printed screen fixed to the scaffold that mirrored the hall's existing walls and features.
Operatives involved in this major project were trained and competent in rigging, slinging, scaffolding, HAKI system trained & MEWP trained.
Key Project Facts:
£750k worth of bespoke HAKI components.
Bespoke hoists made in Germany.
Bespoke secondary support chains.
Security vetted & cleared operatives.
Bay 0 & 14 scaffolds clad in fabric to match building surrounds.
Fire-rated materials.
Out of hours working for installation & removal.
All operatives trained specifically for the task.
Westminster Hall dates back to 1099 & is part of the Westminster UNESCO World Heritage Site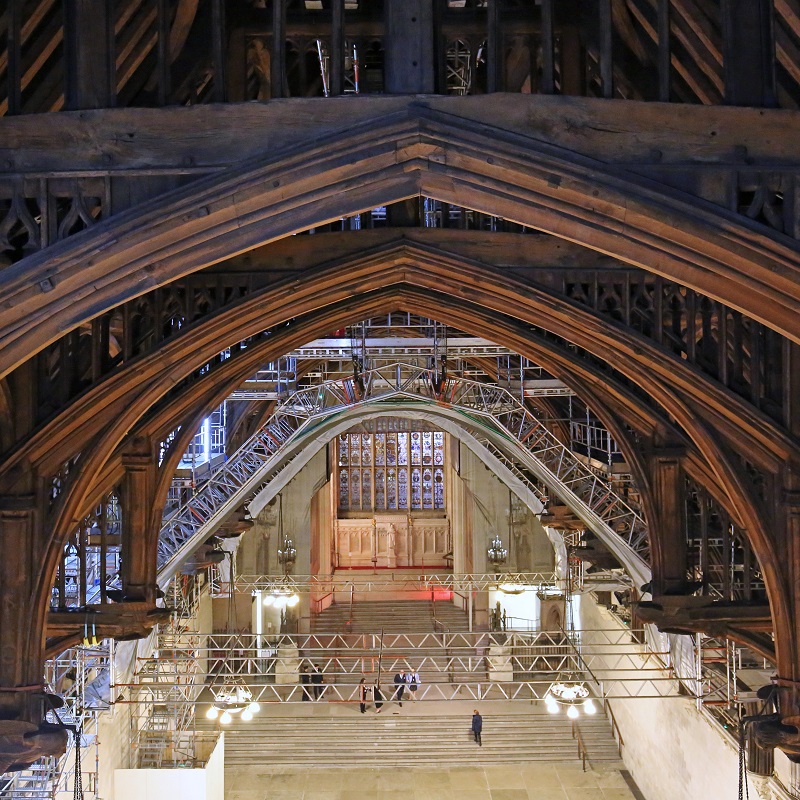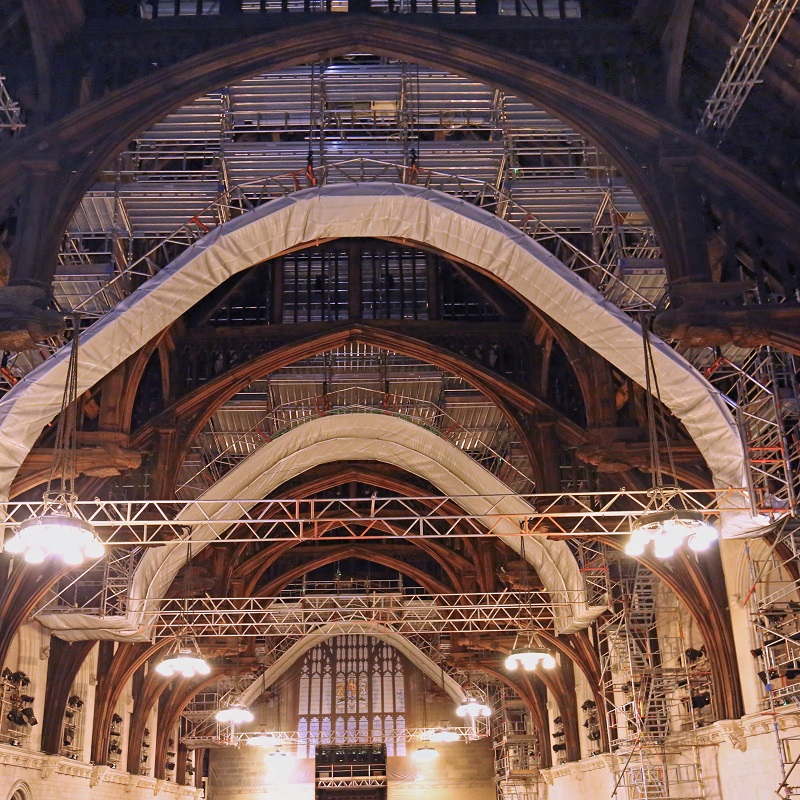 Service: